Considering An Accent Wall? Get A Designer's Advice
For a new spin on the accent wall, Joel Bray's advice is to look up.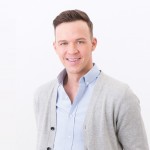 Question: What color should I choose for an accent wall in my apartment, and how should I finish off the decorating? The light is cold and the floor is a bit orangey. – A.V., Moscow
Answer: Your apartment has good bones and ample light, which are great starting points. I can understand why you might be tempted to paint the wall behind the sofa for color, but it can feel disjointed. For a fresher take, keep your walls white but paint the ceiling in Calamine (230) by Farrow & Ball. It will make the space feel more cohesive while complementing your pale pink pillow and throw. This subtle shade has a soft grey undertone, so it's not overly sweet. Plus, it goes well with your floors and adds warmth.
Because your sofa has solid upholstery, I would add pattern with a chair. Placed to the right of the sofa, an accent chair in an oversized turquoise paisley wouldn't look too matchy, and the blue will bring life to the room's neutral envelope. Then, create a gallery wall (similar to the inspiration photo).
Next, I would swap the task lamp on the desk with an orange ceramic version for a pop of color. Style the sofa with an awning-stripe pillow in orange and magenta to reference the lamp and soft pink accents.
This graphic area rug will also help neutralize your floor color, and the pattern works well with the accent chair's large print. Finally, choose a modern coffee table such as this pin-leg design to give the space some edge and offset the soft glow of the new pink ceiling.
Do you have a design dilemma? Send your questions to askadesigner@hhmedia.com.
Author:

Joel Bray

Photographer:

Patrick Cline

Designer:

Source:

House & Home August 2017

Tags: